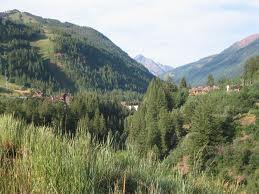 The Crown's from Chicago have closed on the 42 acre Moore property at a price of $13 million.
This piece of Aspen real estate is located on Maroon Creek Rd. on the right as you are going up to the Aspen Rec Center. It is one of the largest pieces of land in Aspen that has development potential.
This acreage was the home for many years of Alberta Moore. The Moore's are one of Aspen's  old ranching families.  The property is accessed from Maroon Creek Road across from the high school football field.  It currently has one home built on this great piece of Aspen Real Estate.
The Crown family owns the Aspen Skiing Company. They also have hotels, sports teams and are owners in JPMorgan Chase and the government defense contractor General Dynamics.  The sale of this property closed on Nov. 22 in the name of S&J Investments, LLC, according to the Pitkin County Clerk and Recorder's Office.
The Aspen Valley Medical Foundation was also trying to purchase the property for a continuing care retirement facility for housing and health care for Aspen's senior population.
The Aspen Valley Medical Foundation offered $12 million to the Moore family but it was already under contract.
This valuable Aspen real estate also garnished interest from Aspen Country Day School, the city's open space program and several other groups. Tom Moore had been presented with six legitimate offers for the property.
Jim Crown, Steven Crown, William Crown are on the title. Jim Crown is involved in the Aspen Ski Company.  He is brother to Steven Crown. William Crown is Jim's cousin.
The Crown's bought the land for themselves and not for the Aspen Ski Company. David Bellack said "I think they are going to study all their options," Bellack said, when asked what the Crowns intend to do with the property. "It's a beautiful, unique piece of property … It's the last large piece of property in town … They are in Aspen for the long term and looked at it as a one-of-a-kind opportunity."
The Crown's also own other real homes in the Aspen area.
The Aspen Valley Medical Foundation wanted to purchase the property. However, they were not able to get the money together quickly enough.
Tom Moore wanted to get the property sold before the end of the year. The Aspen Valley Medical Foundation just were not able to do that.   They were hoping to build up to 100 units of housing for seniors on the property. Most of those units were for independent living while a smaller number of units would be for assisted living.  There would also be other units for nursing home type care.
There appears to be no other land for this kind of facility in Aspen.  The Aspen Valley Medical Foundation is now looking for property in the Basalt area.