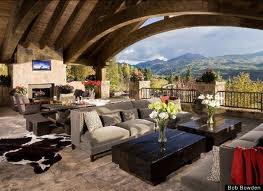 The real estate market across the US didn't do so great in 2010.  But Aspen, that's another story. We continue to make headlines for the Aspen real estate market not only for high end sales, but for other news as well.
Two of the most expensive custom homes sold in Aspen's history this year. A West Buttermilk property was sold in October for $31.5 million. In addition hedge fund manager John A. Paulson bought  a luxury home on McLain Flats Road for $24.5 million. Paulson is a billionaire who made his money betting against the subprime mortgage sector. You may have seen a segment about him on 60 Minutes.  He was also named in a lawsuit filed by the U.S. Securities and Exchange Commission against Goldman Sachs.
The sale of this Aspen real estate was publicized when a local news website originally stated that the former U.S. Treasury secretary Henry Paulson bought the McLain Flats estate. Then as things often happen in the news world, that erroneous story was reported by Huffington Post and many other websites.
Sales of high end Aspen real estate sales were one of the dominant trends in 2010.  There were several high end sales in addition to the McClain Flats deal that sold before the end of the year.
There were also real estate auctions that took place in 2010.  Not all of them were successful. The properties that were successful included Aspen's Stage 3 theater property which sold for $3.6 million and a 530 acre Rifle ranch which was subdivided into 14 separate parcels. There was a luxury home at River Valley Ranch in Carbondale that did not sell at its auction.
A Main Street Victorian home that was unoccupied for years because of a family disagreement may be turned into an employee housing project. Two sisters-in-law each owned half the house. This was an interesting situation.  There was a for sale sign on the property and at the same time a sign in the window of the home stating that one half of the property was not for sale. The two sisters finally resolved their differences. Then a developer bought both interests for $1,900,000 and would like to build affordable housing on the property.
There is now another luxury home getting ready to be auctioned this month.  It also happens to be off of McClain Flats Road.  It has previously been on the market for almost $14,000,000.  It was built as a spec home.  The advertisements state that there is no minimum bid.  But what they don't' talk about is whether or not there is a reserve price.  If there is a reserve then buyers can bid any price they want however the low bidder is not guaranteed to own the home if the reserve (minimum acceptable) price is not met.
What do you think about the auction process?  Should you even make the effort if there is no reserve price?